This Sunday I am doing something different and I am linking up with Neely at
A Complete Waste of Makeup
for the Sunday Social.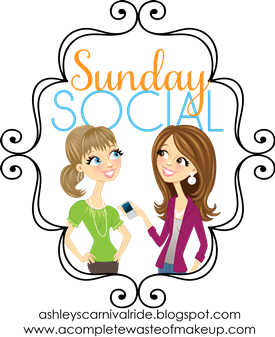 This weeks questions are:
1. What is something you've always wanted to do but are afraid of?
-- I've always wanted to try sewing a drunkards path block, but I have been scared because sewing curves can be difficult.
2. Where do you see yourself in five years?
-- Jeffrey and I will finally be married, I will have my real estate license and be selling houses like a boss, and hopefully we will have another little baby or 2.
3. What are you looking forward to before the end of 2013?
-- Definitely our trip to Disney World in October, and International Quilt Market & Festival at the beginning of November.
4. What are your hopes for your blog?
-- Really I just hope that people read it :) I know I don't have the most exciting posts sometimes, but I hope people find inspiration or at least have a good laugh.
5. Do you always see yourself living in your current town/city?
-- Not at all. Personally I am itching to leave Houston because it is just too busy for my taste. I got spoiled to the laid back College Station life for the past 6 years and now I'm struggling to keep up with the pace of Houston. But even if I loved Houston I know we will move. Jeffrey moved often as a kid and I love to travel, so I don't see us staying put for very long.
6. What is your morning routine?
-- Since I stay home with William, our morning routine can be pretty varied. But this is basically how it goes:
6:00am - in a perfect world I would wake up and work out before William gets up (this doesn't happen often)
7:30-8:30am - William wakes me up.
9:00am - We have breakfast and watch some morning cartoons.
10:15am - I try and get some work done on the computer while William plays or colors.
12:00pm - Lunch time
Until next Sunday :) I hope everyone has a great week! I have so many crafty projects to share this week.