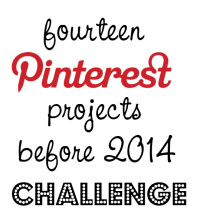 I found this awesome challenge the other day from Sarah over at
Mama's Got It Together
, and I got really inspired to do it. Basically you take all that time you spend pinning awesome projects, and use it to instead make some of those awesome pins come true for yourself.
Since we are moving at the end of May, I thought this would be a great way to make our new place (even though I have no idea where that place is yet) feel more like a home. I already have a Pinterest board full of about 14 projects, I might have a couple extra :), and I can't wait to get started on some of them!
Each month on the 15th, Sarah is going to have a link up for everyone participating to show off all their handiwork. I am really looking forward to this, and I am so glad Sarah has come up with it.
What inspires you to get projects done?